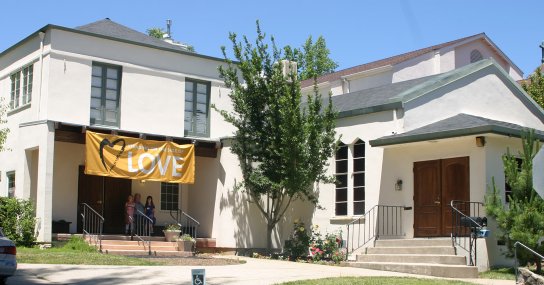 Welcome to the Unitarian Universalist Community of the Mountains, in Grass Valley, California. We include young, middle-aged, and seniors, families, couples, and singles. We embrace varying spiritual and religious convictions. We welcome all the colors, cultures, classes, genders and sexual orientations of the human race. We believe that we are enriched by the diversity of our community and that everyone's gifts are needed.
---
Our Mission
The purpose of our Community is to foster liberal religious living through worship, study, service, and fellowship. We seek the enjoyment of religion founded upon devotion to individual freedom of belief. Relying upon reason as our guide, and upon freedom as our method, we seek to grow in understanding of ourselves and of our world, to promote and serve the universal human family.
(--from our bylaws)
---
Community Profile
We are a GLBT-Welcoming Congregation serving the communities of Grass Valley, Penn Valley, and Nevada City. Our Sunday services are held each week at 11 a.m. along with infant care and a religious education program for children and youth. We invite you to attend.
As a member congregation of the Unitarian Universalist Association, we affirm the association's principles and purposes. Congregational leadership is provided by an eight-member board of directors, the minister, and several committees.
---
Contact Information:
Telephone

530-274-1675

Postal address and the location of our Chapel

246 S. Church St., Grass Valley CA 95945
(at the corner of South Church and Walsh Streets in downtown Grass Valley)

Electronic mail

Minister, the Rev. Meghan Conrad Cefalu: minister@uugrassvalley.org
Board President,

Janet Dunstan

: president@uugrassvalley.org
Webmaster: webmaster@uugrassvalley.org
See also the longer list of contacts on our contacts webpage.

UUCM

Promote Your Page Too